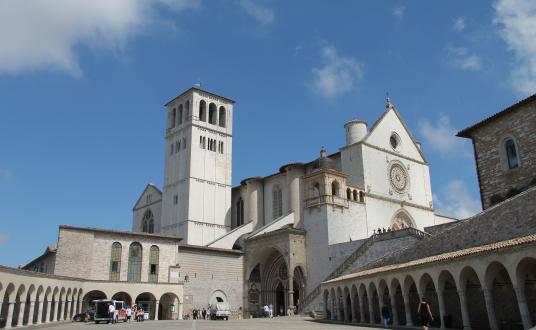 Brother Juniper from Città di Castello to Assisi
DETAILS
 DIFFICULTY: AVERAGE
 ACCOMMODATION: 3 nights in holiday farms and hotels
 PRICE: €280 per person in a double room, €310 per person in a single room (prices for groups of at least 8 people), for individual stays prices will be quoted on request.
 THE PACKAGE INCLUDES: half-board for accommodation in a double or single room, bag lunch, pilgrim's welcome kit (rucksack or T-shirt and printed guidebook).Admission to the Burri Museum.
 Transfers from Città di Castello to Pieve de' Saddi, Loreto Basso to Gubbio, and Gubbio to Valfabbrica.
 On request, the Pilgrim's Credential with each person's name on it will also be issued.
 EXTRA SERVICES: For already formed groups, customized quotations and special itineraries can be organized.Transfer of guests and baggage between facilities.Insurance.
 WE RECOMMEND: comfortable clothing, hiking shoes.
ITINERARY
PROGRAM
DAY 1
This itinerary starts in Città di Castello. This is a city of renowned artists and stately buildings, monuments and churches such as the cathedral, San Domenico and San Francesco, but it is also an important venue for contemporary art, thanks to the work of Alberto Burri, housed in the Palazzo Albizzini and the Ex-Seccatoi del Tabacco. The day starts with a tour of the city and museum, and we will spend the night in town.
DAY 2
The next day, after breakfast at the hotel, we will take a bus to Pieve de' Saddi, where before we leave we can visit the fifth-century church for which the town is named. From here we will take a trail (average difficulty) to Pietralunga (11 km). At Pietralunga we will enjoy dinner with a tasting session of typical products at a holiday farm, where we will spend the night.
DAY 3
The following day, after breakfast we will start on the second leg of our journey to Loreto Basso (15 km). From here, we will take a bus to Gubbio and tour the city. Return to the hotel, dinner, and overnight stay.
DAY 4
After an early breakfast, departure by bus for Valfabbrica, for the last leg that will take us to Assisi (15 km). Here we can visit the Basilica of St Francis, the Bosco Sacro, the Basilica of St Clare and all the other marvellous places that were part of St Francis's life. In the afternoon, a Mass will be celebrated in honour of St Francis and we will join the group from the "Brother Leo" package arriving from the south to celebrate the saint together.