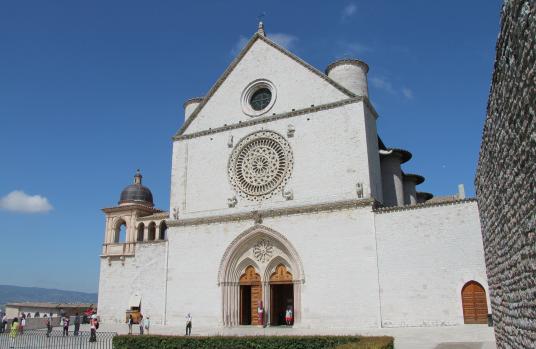 Brother Masseus from Bagnara di Nocera to Assisi
DETAILS
DIFFICULTY: DEMANDING
ACCOMMODATION: two nights in hotels
PRICE:  €180 per person in a double room, €210 per person in a single room
THE PACKAGE INCLUDES: half-board for accommodation in a double or single room, bag lunch (for groups of at least 10 people), pilgrim's welcome kit (rucksack or T-shirt and printed guidebook).
On request, the Pilgrim's Credential with each person's name on it will also be issued.
EXTRA SERVICES: For already formed groups, customized quotations and special itineraries can be organized.Transfer of guests and baggage between facilities.Light lunch.Insurance.
WE RECOMMEND: comfortable clothing, hiking shoes.
DEPARTURES CAN BE RESERVED THROUGHOUT THE YEAR
ITINERARY
PROGRAM
DAY 1
The path covers the road St Francis travelled on his last journey before he died. It is an easy walk on silent trails in the shadow of the woods of Mount Subasio and at the end we reach Assisi. On day 1 we will arrive at the point of departure for the first leg of this walk, which covers 8 km. We arrive at Nocera Umbra and tour the city. Dinner and overnight in a hotel.
DAY 2
The following day we leave for Assisi, walking on trails and unpaved paths. Arrival in the centre of Assisi; dinner and overnight stay. 24 km.
DAY 3
The third day is devoted entirely to Assisi, with guided tours (on request) of the seven churches.